I will close this community.
It wasn't an easy decision but I thought it would be better so. I'm not going to delete it - just close it. Maybe I will reopen it someday when Orlando is back working and I'm not talking about walking infront of pap cameras. I'm also sick of this fandom where people tell others how they have to see things and how you have to worship phakery. Happy party time, shippers. I won't miss you.
But I will miss others I met back in the good old days. Who will never come back. Sadly. I hope we will cross paths from time to time.
I will watch his 'career' & 'private' life. It's way to enteraining for a fatty like me.
I will be still around at LJ. I'm thinking of creating a community for
Luke Evans
. If anyone is intrested in joining me let me know and I pm you when it's ready.
Edit: My new home
Luke Evans Talk
is open now.
*waves to all the lovely members & lurkers*
To make it quick and easy:
X17
has a new video of Orlando with his Ducati at Sebastian's house in LA.
.
Pics are up at
X17
.
wmv
at Megaupload
Link replaced
wmv
at Sendspace
Link replaced
I'm sorry that the first conversation of the clip hasn't worked properly. Hadn't checked the file before uploading. *blushes*
Don't know what happend because the MP4 one was working fine. O_O





















































Is it just me or is Bast more intrested in his mail? LOL
And good to see the little dog (Guera?) around. Orlando adopted her in Mexico while filmimg Troy.
And while searching for this pic I found these: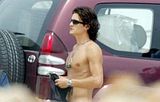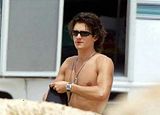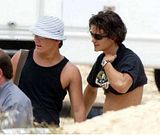 Ah, the old times. *swoons*
Jamie Oliver
posted a clip on his
Youtube channel
.
(
Read more...
Collapse
)
wmv
on Megaupload



































The famous chef
To be honest I havn't cared much about the latest 'news' in the Bloom-Kerr world. I prefered spending my time in the sunny spring and with other nice things. And after I have a new job I also didn't had much time left. *sigh*
My old pc sucks because he is slower than a snail. Everything takes ages. Opening and downloading pics or other stuff is like hell. I always get errors about not answering scripts in FF what slows everything down. Had to deactivate alot of my addons.
I'm still catching up with the latest pics. But reuploading and posting pics here would take to much time.
But you can always find the latest pics at
Mean Girls
. Thanks, Dea. You're doing a great job!
I have a lot of clips on my external hard drive who I will post in the next time with caps.
You're welcome to discuss what ever you like in the latest threads.
I have to apologize for the lack of updates in the past weeks. *blushes*
So I can only post links to the pics. *sigh*
Departing from LAX 18.04.11
CeleBuzz
,
SplashNews
,
Arriving at JFK in NYC 18.04.11
JJ
,
Celebrity Baby Scoop
,
CeleBuzz
,
INF Daily
Video
from Popsugar.com
wmv









Out in NYC 19.04.11
JJ
,
Celebrity-Gossip.net
More pics can be found at
Mean Girls
.
Firefox & my PC hate me these days. *kicks 'em*
British hottie
Orlando Bloom
looks like he's settling into
fatherhood
.
We spotted the actor at the
Los Angeles International Airport
with
baby son Flynn,
and
wife Miranda Kerr
.
The couple shared baby responsibilities as they navigated their way through security.
Baby Flynn is getting cuter by the day, but how could he not with a dad who looks like Orlando and a
supermodel
mom!

Miranda Kerr and Orlando Bloom arrive at LAX airport with their adorable son, Flynn, for a flight out of town on Monday (April 18).
The 27-year-old model and her 34-year-old hubby made their way through security with 3-month-old Flynn, who was all bundled up in dad's arms.
Earlier in the month, Orly was spotted picking up a bonsai tree to bring home from Malibu Canyon.
10+ pictures inside of Miranda Kerr, Orlando Bloom, and Flynn gearing up for a flight out of LAX…
Dea posted untagged ones at
Mean & Proud
.HQs from TooFab.com. Link via Mean & Proud. ;)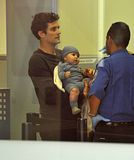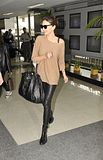 Orlando will promote SFD (and probably TGD) at a few tv shows.

Regis and Kelly ~ 27.04.11
Jimmy Kimmel Live ~ 28./29.04.11 (depends on where you are)
The Ellen DeGeneres Show ~ 29.04.11

Check your local listings for the exact times.
Will record the shows and provide a download file and caps as usual. ;)



EDIT: Just seen that the theme of Regis and Kelly on that day is 'How to Throw a Royal Wedding Viewing Party'. Now I wonder if they ask him about his 'wedding'. :P




OK, I know... I'm that nerdy. But when I didn't have anything for our celebrity guests to autograph I grabbed my XBOX 360.

Orlando Bloom, Mark Ruffalo, and Christopher Thornton were out to visit and promote their new movie Sympathy for Delicious. It looks amazing and I thank them for humoring me.
(
Read more...
Collapse
)
wmv










Get the platinum hair extensions ready: Orlando Bloom is likely to reprise his "Lord of the Rings" role of elven warrior Legolas for "The Hobbit."
Bloom tells PopcornBiz the deal is almost done for him to return to the role of the centuries-old elf archer from J.R.R. Tolkien's fabled trilogy for director Peter Jackson's two-part film adaptation of the prequel novel featuring Bilbo Baggins.
"Yeah, it's looking like that," says Bloom. "I'm really excited about going to see Pete again. It's still a little up in the air, but the idea of working with Pete is fantastic. I can't actually really talk too much about it, at this point. I just was given the script to piece through, so it's quite exciting."
"I just have to grow my hair really long and blonde again," he chuckled.
Although the character of Legolas does not appear in Tolkien's original novel, there's been much discussion that some kind of framework has been developed to include characters – and actors – which have been featured in Jackson's "LOTR" films. Already confirmed to quest along with Martin Freeman as the young Bilbo Baggins are key players Ian McKellan (Gandalf) and Andy Serkis (Gollum – as well as serving as second unit director), along with Elijah Wood (Frodo Baggins), Cate Blanchett (Galadriel), and Christopher Lee (Sarumon, and possibly the voice of the dragon Smaug). Hugo Weaving (Elrond) and Ian Holm (the older Bilbo) are also said to be in talks to rejoin Jackson.
Meanwhile, Bloom is looking forward to simply being an audience member for this summer's next installment of that other little franchise he previously starred in – "The Pirates of the Caribbean." "It'll be great," he says. "I've had such a great run with them."
While he's not finished with working on potential blockbusters, Bloom says in the wake of two mammoth smashes he found himself more than hungry for roles that would allow him to challenge himself, like the self-aggrandizing aspiring rock star The Stain in "Sympathy for Delicious," actor Mark Ruffalo's directorial debut.
"I was coming from a place of desperation," he admits. "I was desperate for an opportunity to break out of a preconceived idea of who I was as an actor, based on finding myself in two of the biggest trilogies of movies of all time. It was about making big movies and not having really had the opportunity to do some of the small, interesting, different movies, where you do get to break out."
"When you're 21 and you find yourself in one of the biggest trilogies of all time, and then you're 24 and you're in the next biggest trilogy of all time, you have no sense of which way is up," he reveals, "instead of going, "What does this actually mean to me? What do I want to be doing? How do I want to be perceived? What do I want from my career?" All of that stuff comes in when you have the time to settle and think about it, which is what I'm doing now."
Bloom says Ruffalo's film is merely the beginning of a fresh new career course ahead. "I produced a little movie called 'The Good Doctor,' which we're taking to Tribeca – that's a really twisted, dark turn for me," he says. "It was a really interesting thing to try. It shows the darker side and the shadow self, as it were. And, when 'The Three Musketeers' came along, the Duke of Buckingham was a fantastic role because it's a completely different thing for me, as opposed to being a Musketeer. I got to be the giant petulant child, in many ways, that the Duke of Buckingham turns out to be. So I'm really embracing the other side and shifting the perception. I actually had no idea how hard it would be to shift the perception, and that's really what it's been about."
A guy let Orlando, Mark & Chris sign his XBox.